Anyone familiar with the MB Transformers line will know that Jetfire was initially the leader of the Autobots and not Optimus Prime. If you've ever wondered why that was, you're not the only one. There's a theory going round that explains this anomaly as the result of a trademark issue regarding the name Optimus Prime in the Netherlands. I think this long standing theory is incorrect.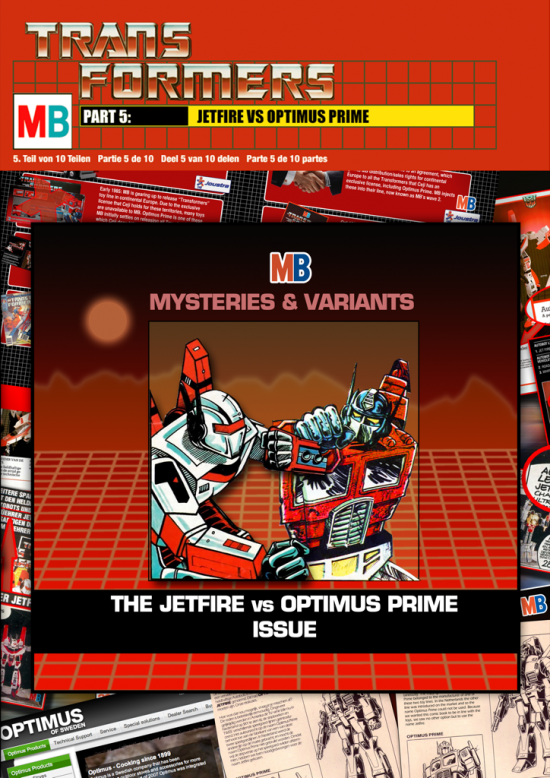 I've done a lot of research over the past few months on this very subject (yes, sometimes I worry about my own sanity…) and I have found nothing to support this theory. Quite the contrary. I have come to the conclusion that the exact reason why Optimus Prime was not  initially planned for inclusion in the MB line is because of a different reason altogether and I wrote it all down in this 5th chapter of my series of articles on MB Transformers. Why devote an entire chapter to this subject? Well, for one, it is one of the more interesting issues in the MB line in my opinion and, two, it needs to be supported by a sturdy foundation of important information, which significantly adds to the length of the article, so it was not an option to include more topics in this installment.
I understand some people will choose to ignore my take on this, preferring to hold on to the trademark theory, but that's perfectly fine! I believe I have outlined my case with many supporting arguments and from what I've seen so far, I think the trademark theory is wrong. Then again, new evidence might pop up one day proving my theory or parts of it wrong! All I'm saying is, this is what I think happened, and here's why…. :-)
Tell me what you think in the comments section or by emailing me. Please enjoy the fifth installment on MB Transfomers by clicking here!