Tonight is a small Anglo-Dutch party. My very good friend Maz from TF-1.com and I are proud to present to you some of our most interesting work to date. We hope you will find it is also some of our best work to date, because we've certainly poured our collective hearts and souls into it. Both articles that we've just finished writing go into amazing detail on a subject matter that we are pretty passionate about: European Joustra Diaclones and MB Transformers respectively.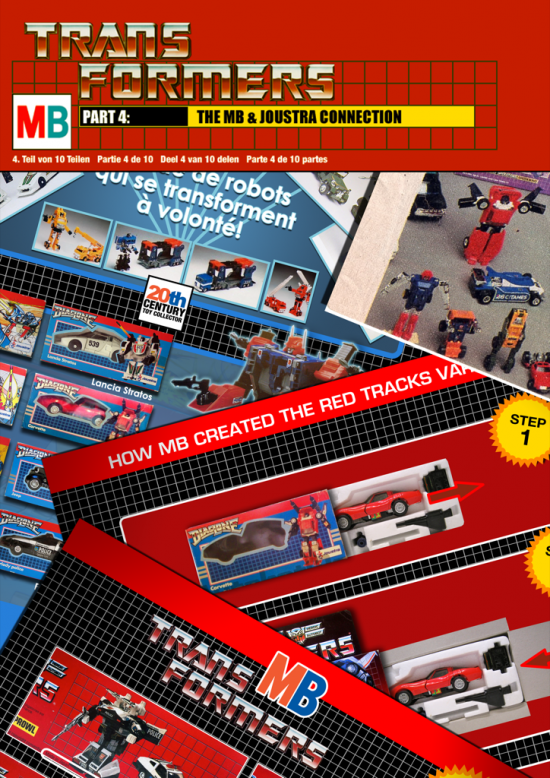 First off, above you can see some of the graphical design for the latest installment in my series of articles on MB Transformers, which is now finally online! This fourth chapter examines the very close ties between the afforementioned two vintage toy lines from the mid-1980's. This is the big one. Both in size and in message. Some numbers; the first two installments were around 2,500 words each. The third installment was the biggest one yet with approximately 5,000 words. The first draft of the fourth installment came close to the 9,500 mark! That was way too big. I also found the flow of the article was just too chaotic and I commenced on a 2-week long redesign, which ultimately saw this article end up with 7,500 words. Still quite large, but I now feel confident that it is ready for consumption and succeeds in getting my message across.
Content wise, this is why I embarked on this unholy mission of writing a series of articles on MB Transformers. The previous three chapters, while informative and enjoyable in their own right, were all leading up to the information that can be found in chapter four. It ties an important and relatively unknown portion of early European Transformers history together. This is the story I wanted to tell. This is what I think happened between MB and Joustra in 1985 and I think it's very exciting. This is what I needed to get out of my system and share with fellow G1 Transformers enthousiasts on the world wide interwebs. I guess observant collectors will have put this together before, but to my knowledge this information has never been published online in such a comprehensive way and since it's been more than 25 years, I thought it was high time it got told! I really hope you enjoy it!
Please don't think that the rest of the series will be boring. Although I cannot deny that this is really the high point of the series, there is still much more to tell and you can count on my usual nerdy and meticulous methods of investigation and obsessive attention to detail for the remaining 6 chapters. I won't give out an estimate for the release date of the 5th chapter, because I need an even bigger break than after the last chapter. It'll be here when it's here. For now, enjoy the "MB and Joustra Connection" by clicking here.
"Joustra Diaclone Lancia Stratos"
But like I said, that's only one half of the party! As soon as you're done reading the "MB & Joustra Connection" there is some further reading that I can heartily recommend from my favourite vintage Transformers site, TF-1.com.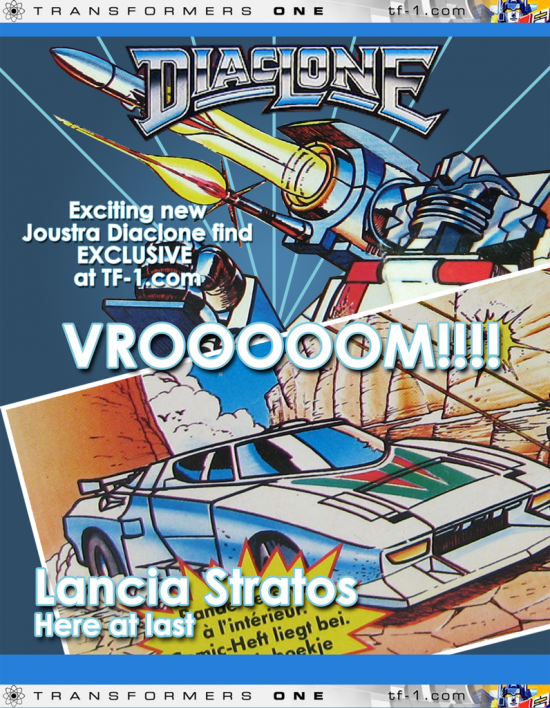 Through an amazing bout of luck and coincidence my good friend Maz got his hands on a very, very rare Joustra Diaclone wave 2 item; Lancia Stratos, a.k.a. pre-Wheeljack! This is the first time a Joustra Diaclone Lancia Stratos has surfaced publicly complete inside his packaging! You can count on Maz to thoroughly examine this item and place it against the background of both its earlier and later incarnations, accompanied with many, many photographs in his trademark style. It's the next best thing to owning one yourself! At this moment this is the only known Joustra Diaclone Lancia Stratos in the world of which publicly available, photographic evidence exists! Check out TF-1.com's amazing scoop by clicking here.