I've had some really nice feedback on my last MB Transformers article and I'm really quite humbled by some of the reactions. It's a real boost to find that fellow Transformers enthousiasts enjoy reading my musing as much as I enjoy writing them. I'm already a long way towards completing the 5th installment and contrary to what I originally had planned, this will not be an article about the introduction of Hasbro branded Transformers in Europe. Instead I have deciced that I will concentrate on another part of European Transformers history that I am most interested in investigating and that is MB Transformers mysteries and variants.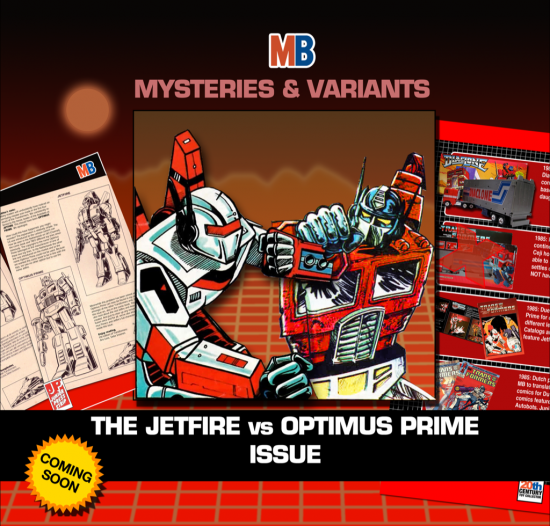 From a chronological standpoint it just makes a lot more sense to look at MB mysteries and variants (1985) first and to push back the article on Hasbro rebranding (1986) towards the end of the series. As I was doing research on the legal issues surrounding Optimus Prime's release in Europe and the Jetfire leadership thing (in Europe, Jetfire was initially billed as leader of the Autobots in 1985!) I gained some new insights that further cement the theory in the 4th chapter and I will merge these back into that article as soon as chapter 5 is done.
So what are all those MB mysteries and variants then? Well, first of all there's the issue of Jetfire being leader in the MB Transformers universe. As you will find, the explanation for this abnormality is closely tied to our famed maker of toys from Strasbourg called Joustra! Also, I believe the standing theory about it being related to an alledged trademark dispute about the name "Optimus Prime" in the Netherlands in 1985 is false. This really is such an intricate web of information that most of the the fifth installment will be dedicated to it. The remainder of this installement will look at the total of three (!) different Optimus Prime variants that MB released in 1985, so it's really Optimus Prime's party in the next installment of the article series on MB Transformers.
But there are many more mysteries surrounding the MB line to keep us occupied, that will follow in subsequent installments. There's also the mystery of the Thundercracker/Starscream mixup, there's the mythical MB Devastator gift set, the mystery of the MB Swoop, the case of the missing MB Autobot car and yellow Constructicons. All these mysteries and variants will be examined in the next few chapters so stay tuned. Who said MB Transformers were boring? :-) Have a great weekend!