I'm in the process of setting up a page which contains an overview of all the MB Transformers I already have in my collection. I spent the better part of this Sunday afternoon in my collection room taking photographs and I expect to have the MB page up within the week, time permitting. Something I'd like to share with you already is a few snapshots of my nearly complete MB Autobot cars collection.
Question: What do eight Milton Bradley Autobot Cars look like together in their original packaging?
Answer: Fucking awesome! As evidenced below.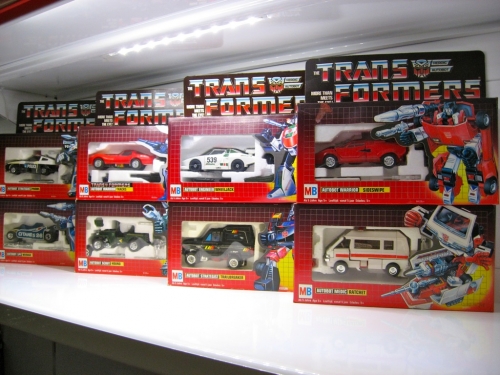 As some of the growing number of you regular visitors of this blog might know (thanks for visiting!), I collect all sorts of action figures and toys from the last couple of decades of the 20th century. Only a part of my collection is visible on this website, because quite frankly, it takes a shitload of time to take photographs, import them, select the best batch, clean them up and upload them to my site and incorporate them into articles. But it's a labour of love, so you don't hear me complaining! Of all the stuff I collect, the G1 (Generation 1) Transformers are my absolute favourite, and to be even more specific, my main focus is on collecting all the G1 Transformers that were released in mainland Europe in 1985/1986 under the MB brand. I'm such a sucker for these MB releases. They just look so awesome together and I get a tingly feeling inside whenever I see them. It cost me a lot of blood, sweat, tears (and money) to get these, but it is so totally worth it. Fellow obsessive compulsive collectors, you know what I'm talking about.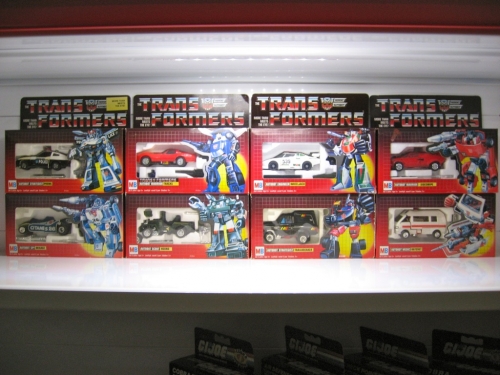 A total of 9 Autobot cars were released by MB as part of their 1985 line-up, which was the first series of Transformers to ever hit mainland Europe (Transformers were released first in 1984 in the US, and probably partly also in the UK, under the Hasbro brand). The MB releases are easily identifiable by their conspicuous MB logo at the left bottom of the box. Another stand out fact is that all the Autobot cars came with styro foam inserts instead of the regular see-through plastic bubble inserts. As you can see, I'm only missing one Autobot car: Jazz (if someone has an MB Jazz and wants to sell it: contact me!!)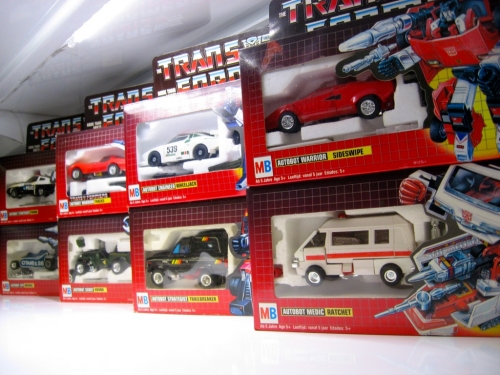 I understand that this blog's focus has been very much about Transformers lately (which is good), but for those who are a little fed up with all the Transformers stuff (for shame!) I have good news. I plan to focus on some of the non-Transformers stuff in my collection soon. First up is some Joustra Diaclones. Technically not really Transformers, but still kind of Transformers. But I plan to allot some space on these pages to some other toy lines soon like Blackstar, Wheeled Warriors and BraveStarr! Stay tuned!