This gave me a chuckle. I don't know how I stumbled upon this website, but I was undoubtedly Googling for some Transformers or Joustra Diaclone related stuff as I often do (and maybe too often). It's a Chinese website that has -how shall I put this- "borrowed" some of the content from this site. :-)  As regular visitors to this website will know, I'm pretty passionate about collecting vintage Transformers that were released by well-known toy manufacturer MB in Europe in 1985. So much of a nut that I embarked on a mission to write what will hopefully become my magnus opus on European MB Transformers. Well, it seems someone has created a Chinese copy of these articles. Have a look (click for larger version):

To the left is the banner graphic of the second part of my on-going article series on MB Transformers and to the right is the translated Chinese version as it appeared on afforementioned Chinese website. Want more? Check this out: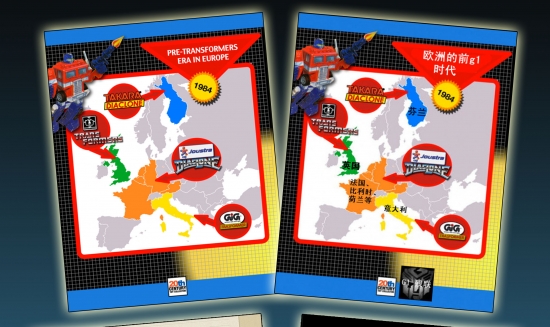 Again, to the left is original work that was created by me as part of this article. To the right we see the Chinese version that appeared on this website. Pretty cool, huh? But it's not just the second chapter of my article series on MB Transformers that got the Chinese treatment. Here's an excerpt from the third chapter: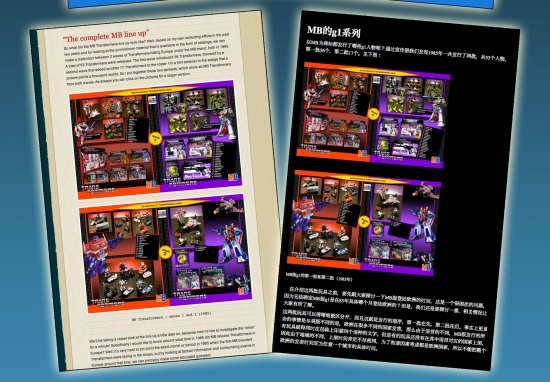 Those two "catalog-esque" pictures you see there were actually designed and created by me. The article contains more unique photos that I know are mine. Well, at least it seems this work was done manually by someone who is genuinely into Transformers and it looks like a personal blog. He did add his logo, but was kind enough to leave my website logo intact, so I'm not really angry about it. Quite the opposite. I think it's pretty cool that someone from another culture at the other side of the globe is interested in what I have to say. Imitation is after all the sincerest form of flattery :-)
If you've never read my articles on European MB Transformers and this has peaked your interest you can find the first 5 chapters here, here, here, here and here. Enjoy!