Stop a thirty-something year old dude on the street and yell "By the Power of Greyskull!" to his face. Chances are very slim you will be beaten up. Chances are you will see him stop dead in his tracks, a smile appear on his face and a spark of nostalgia in his eyes. For the uninitiated, I am talking about a little thing called the "Masters of the Universe". It was the shit in the 1980's and today's blog post is about one of the most iconic characters of that very toy line: Battle Cat!!!!!
Battle Cat (1983) Mattel Europe
"By the Power of Syndication!"
The Masters of the Universe has got to be one of the greatest toy line successes of all time. It was the proverbial snowplow that paved the way for many more toy line/cartoon tie-ins to come. At the height of its succes it made Mattel 400 million dollars a year and its success was in no small quantitites due to the popularity of the eponymous cartoon series by animation studio Filmation. In an unprecedented move for children's programming the major US network were circumvented and a whopping total of 65 episodes was dropped into syndication in 1983. First run syndication cartoons were born. Five days a week of He-Man cartoons on TV certainly aided Mattel's record sales.
Trade ad for He-Man and the Masters of the Universe cartoon (1983) Filmation Associates
The cartoon series had its world premiere not in the US, but on UK channel ITV on September 5th, 1983. Three weeks later, on September 26th, the series debuted on local TV stations all over the US through barter syndication. France was introduced to the cartoon shortly thereafter on January 6th, 1984 on channel Antenne 2. On July 20th, 1985 the series premiered on pan-European satellite broadcaster Sky Channel, which meant that more European countries were introduced to the cartoon like the Netherlands, Switzerland, Norway and over time even more countries as Sky Channel's reception in Europe grew.
"Battle Cat"
Battle Cat was part of the first series of Masters of the Universe toys that were released by Mattel in the US in 1982 and was He-Man's trusty feline friend. I don't have exact data on other European countries, but the toy line was introduced in the Netherlands one year later in 1983. My guess is that the same goes for the rest of Europe and that 1983 was the European debut of the Masters of the Universe toy line (France maybe being the exception with a possible 1982 debut through imported Canadian bi-lingual Masters of the Universe toys).
European bi-logo
The European packaging of Battle Cat is easily recognized by the bi-logo packaging (two logos: "Masters of the Universe" and "Maîtres de l'Univers"), Although Canadian Masters of the Universe toys came with this same bi-logo packaging the European packaging will have additional German and Italian texts spread throughout, so the packaging itself is really quad-lingual, with English, French, German and Italian as the languages of choice.
European quad-lingual packaging
"Distribution"
Distribution of this European version of Battle Cat was done by the various international Mattel subsidiaries. Mattel UK, Ltd for the United Kingdom, Mattel France SA for France, Mattel GmbH for West-Germany and Mattel SpA for Italy.
European Mattel subsidiaries
The remaining European markets where Mattel was not active themselves were mostly handled by local distributors. In the Netherlands in 1983 distribution of Mattel products was being handled by a toy wholesaler/importer called "Borka B.V.", operating from a small town called Etten-Leur in the south-west of the Netherlands. Borka B.V. was a subsidiary of Dutch trading company Borsumij Wehry N.V., which also owned the exclusive Belgian distributor of Mattel products. Borka B.V. held the exclusive distribution license for Mattel products for many years until 1985, which is when Mattel finally founded their own subsidiaries in the Benelux countries and decided to take distribution into their own hands. (A nasty law suit followed, which dragged on until 1991 and went all the way to the Dutch Supreme Court).
Article on Borka's 1984 product line (Speelgoed + Hobby) April 1984
"The Recycling Machine"
It might come as a shock to some, but Battle Cat was not really an original toy. Mattel was certainly known for its predilection for re-using moulds. The first recorded occurrence of this mould is from Mattel's 1970s toy line Big Jim. It was released in 1976 as Big Jim On the Tiger Trail.
Big Jim on the Tiger Trail (1976) Mattel
Then in 1978 Mattel decided to cash in on the popularity of the Tarzan cartoon (also from Filmation) and released a Tarzan and Jungle Cat set which re-used the same tiger mould, but now as an all black feline: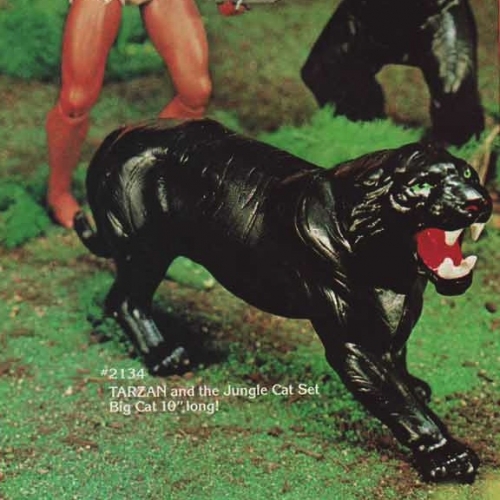 Tarzan's Jungle Cat (1978) Mattel
And then 1982 rolled along and Mattel needed something for their Masters of the Universe toy line. "Hey, why not re-use our tiger mould again?!" And thus it was that Mattel re-painted this mould once more, but this time in its iconic green with yellow stripes. Battle Cat was born: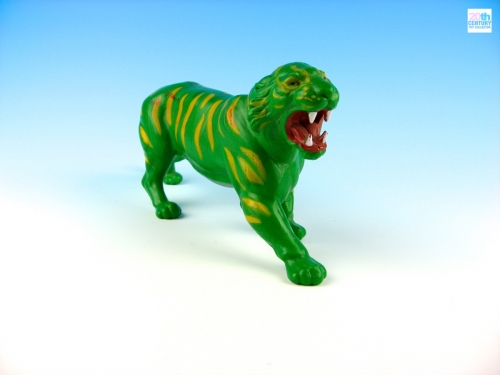 Battle Cat (1982) Mattel
But Mattel didn't stop there. One year later in 1983 they decided that Skeletor needed a feline of his own. It was called Panthor and guess which mould Mattel used for that. Yep…. Check it out:
Panthor (1983) and Battle Cat (1982) Mattel
"One Cool Cat"
Despite the fact that this mould has been recycled over the years, Battle Cat has a style of its own and this is in no small amount due to the cool armour it came with. Anyone who grew up with the Masters of the Universe cartoon instantly recognizes this cool colour scheme. I mean, just look at Battle Cat fully armoured up:
Battle Cat fully suited up
And if you thought that looks cool, just look how awesome Battle Cat looks together with a He-Man action figure!
Battle Cat and He-Man
Doesn't it look fantastic? I can tell you it looks just as cool in real life. I was setting up He-Man and Battle Cat for this photo session and was simply struck by how cool the scene looked. I took multiple photos from several angles and they all looked great!
Battle Cat and He-Man
"Mesmerizing Artwork"
There's one more thing I'd like to touch upon regarding this "Tigre de Combat" and that is the awesome, amazing, fantastic art work. I mean, just look at how mystical and awe inspiring this looks:
Battle Cat artwork (by Rudy Obrero)
The Masters of the Universe toy line was blessed with many talented artists doing the packaging artwork. This mesmerizing depiction of Battle Cat with its helmet off is by a talented artist called Rudy Obrero. It's a sight that regular visitors to this website will immediately recognize, because it is often visible in the randomly changing header of this very website!
"Gallery"
I hope you enjoyed this little look at Battle Cat. Masters of the Universe was certainly one of my favourite toy lines when I was growing up and I plan to feature more of my MOTU collection in the near future. For now, please enjoy the additional photos I made of Battle Cat below. See you back soon!
"Credits"
Topless Robot for the Big Jim Tiger photo
Bigjimforum.com for packaging of Big Jim on the Tiger Trail photo
Plaidstallions.com for the Tarzan Jungle Cat photo