Of the first wave of G.I. Joe action figures that were released in the Netherlands in 1987 (and the rest of mainland Europe) Zartan has got to be one of the coolest. Technically, Zartan wasn't released as a standalone action figure, but as part of a vehicle set (the Chameleon Swamp Skier), just like the US version. I recently scored a very nice Zartan and Chameleon 100% complete in Dutch packaging (I try to collect the extremely rare G.I. Joe releases that came in Dutch-only packaging). Have a look at the gorgeous, signature 1980's packaging: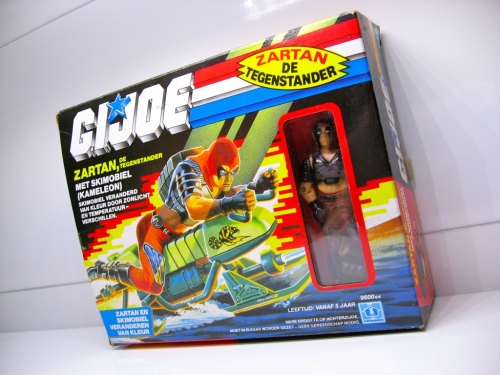 G.I. Joe – Zartan with Chameleon Swamp Skier – (Dutch version 1987)
"Bad Ass"
Zartan is a mysterious character in the G.I. Joe universe. Officially he belongs to Cobra (the bad guys), but he is really a part of a subgroup of mercenaries called the Dreadnoks ("Waaghalzen" in Dutch) of which he is the leader. Zartan is a master of make up and disguise. He can also change his skin colour at will to blend into his environment, much like a chameleon. According to the file card on the back of the packaging he is fluent in over 20 languages and dialects and is master of several martial arts. His real name and place of birth are unknown. How much more bad…. ass…. can you get?!? :-)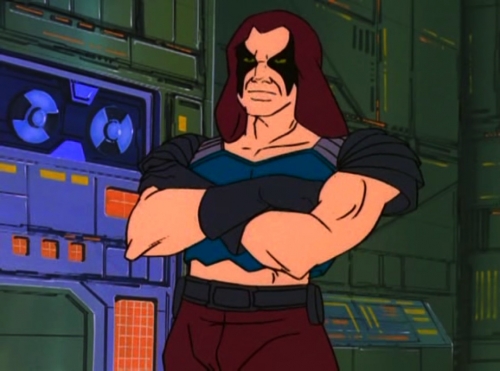 Scene from G.I. Joe cartoon by Sunbow (1985)
"Heat Sensitive"
The toy version of Zartan was friggin' cool! Zartan's skin was heat sensitive. If you expose the action figure to direct sunlight, he will turn blue! I know, it's just a gimmick, but to me it was one of the coolest things evah back in 1987. The same goes for his Swamp Skier (called "Kameleon" in Dutch), which also saw most of its parts change colour when exposed to sunlight. Zartan also has heat-sensitive chest- and thigh-armor that changes colour.
Zartan – being a bad ass
To top it off, he also has a mask that he can carry around in a special compartment of his backpack! You could actually put this mask on Zartan's face! Like this: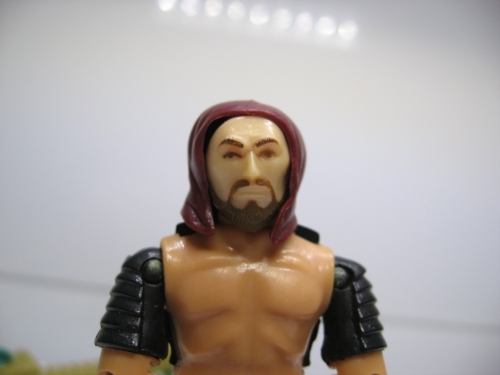 "No mate, no Zartan here. Move along."
"Collection"
I bought this Zartan a couple of weeks ago and I was very pleasantly surprised with the state the action figure was in, the Swamp Skier and the packaging. Everything was there. All the inserts, paperwork and in such great shape as well. I mean, even the spare heat sensitive stickers for Zartan's chest and thigh-armor were included!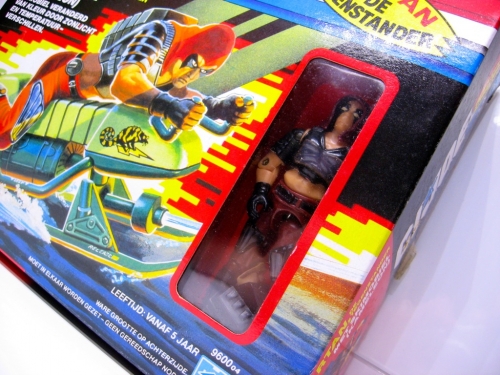 "Trivia"
The first version of Zartan's file card in the US (in 1985) was released saying that Zartan suffered from paranoid schizophrenia and multiple personality disorder. After receiving complaints from a mental health organization Hasbro quickly dropped that part of Zartan's bio and released updated packaging. As a result, this is sometimes used a selling point in auctions of boxed Zartans that still carry the "schizo card". As far as I am aware Zartan's Dutch bio never had any reference to mental illness, which is not so surprising, because Zartan was released in Europe two years later (in 1987).
Larry Hama, the guy who wrote most of the G.I. Joe file card bio's, originally intended Zartan to be called Captain Chameleon, due to his colour changing abilities. In the end, Hasbro went with Zartan, which is an obvious anagram of Tarzan.
"Gallery"
Check out these sweet Zartan pics from my collection below. Enjoy!