Well, this is one for the books. Last week an original prototype of Tytus was auctioned on eBay for a winning bid of $7,600 U.S. (approximately EUR 5400). Now, Tytus usually goes for a hefty sum boxed or not, but nowhere near this sum. What made this auction stand out was the fact that it was, reportedly, one of four prototypes made in Mexico. But on top of that it is the only one in the known world inside U.S. packaging.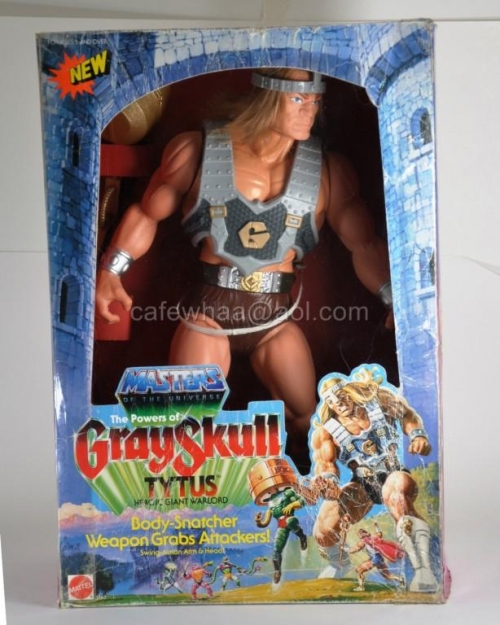 Tytus is considered by many MOTU (Masters of the Universe) collectors to be the Holy Grail of MOTU collecting. Tytus was supposed to be released in 1987 as part of the so called "Powers of Grayskull" line that Mattel had developed as part of the Masters of the Universe toy line. For various reasons "Powers of Grayskull" was canned and only a few (if any) of the announced toys actually shipped in the U.S. In Europe, some of the announced "Powers of Grayskull" figures did end up in the shops, albeit under the regular Masters of the Universe name. Tytus being one of them.
Tytus was a pretty special MOTU figure, not in the least because he was gigantic compared to the regular figures.  An evil counterpart to Tytus was also created, the giant ogre called Megator! Megator also goes for insane prices whenever he pops up for sale or auction.
Both Tytus and Megator are pretty rare, or so it is claimed. Problem is, I've seen both popping up on eBay fairly often in the past few months, which begs the question…. how come they still go for insane prices? As a matter of fact, at the time I am writing this posting there are 3 auctions on eBay right now all selling Tytus either boxed or unboxed with asking prices starting at least somewhere around EUR 1500! I would expect such a rare item to turn up a lot less on eBay. But then again, there could be several explanations.
One of them is that although Tytus (and Megator) do appear on eBay from time to time, they are highly wanted posessions by MOTU collectors, which is no far stretch to the imagination. Another explanation is the fact that we're at the end of a very rough period economically speaking. The perceived increase in supply of Tytusses (or is that Tyti? ;-) ) could be due to the fact that some of the sellers need the money. A third explanation is the whopping $7,600 paid for this very special Tytus. It will no doubt have inspired some other collectors to put their Tytus on the market. As a matter of fact one of the Tytus auctions currently on eBay is claimed to be manufactured in Mexico as well.
Still, it's great to see these items go for such prices. Congratulations to both the seller and new, happy owner!